Message from Federal Secretary
The Ministry of Federal Education and Professional training is determined to implement its Constitutional obligations, especially Article 25-A, which declared free and compulsory education up to secondary level as Constitutional right. The Pakistan Education Statistics 2017-18, contains information in respect of education institutions, students' enrolment, teachers and physical facilities by level of education, gender and provinces/regions. It also contains key indicators, which facilitate decision makers in monitoring of education system to identify gaps and to devise strategies to bridge them. Accurate, reliable and timely available data facilitate educational planners and managers in planning, organizing, and controlling human and physical resources to enhance efficiency and effectiveness of existing education system.
The conclusions drawn from the report will help to gear up achievements of Sustainable Development Goals, being an international commitment.
The Ministry of Federal Education and Professional Training has always facilitated the work done by ational Education Management Information System (NEMIS). I highly appreciate NEMIS team for compiling and publishing this important annual report. The report shows that the number of out-of-school children (Primary to higher Secondary) has declined from 22.8 million in 2016-17 to 17.8 million in 2017-18. The report also identifies a number of weak areas of education system which need immediate attention of the policy makers at various levels.
I am pleased to note that this annual publication is a major contribution by AEPAM as the report contains a detailed analysis of the education system in the country. The analytical portion of the report as well as its statistical part will prove very useful for all stakeholders to gauge the progress for expansion and development of education in the country.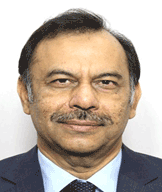 Mr. Arshad Mirza  
Federal Secretary  
Ministry of Federal Education and Professional Training  
Government of Pakistan  
Islamabad